Which bike is better for Leh, Ladakh? This is a concern that any motorcycle enthusiast or biker who is contemplating a road trip to Leh Ladakh has on their mind. Many of you have the solution in the shape of a Royal Enfield or Bullet, which is well known for its massive 350 cc and 500 cc engines and suits for a high altitude of 3500 m (approx.) above sea level. But don't you think it's a complete bit of knowledge for you? When you know that the knowledge is insufficient, you begin to wonder if there are any other bikes available for a Leh Ladakh cycle ride. The solution is simple and rational. Yes, there are several choices from which to select.
The destination of your bike trip illustrates why you should be cautious when selecting a vehicle, since it will be your companion for the duration of your journey. You should be mindful that the road in Leh Ladakh is not always flat, and you will have to travel across some rugged terrain. Choosing the right bike for your bike ride to Leh Ladakh is crucial because you don't want to get lost in the middle of the route.
The first thing that comes to mind is the bike's ability to navigate difficult roads while making you feel fearless while riding. On your Leh Ladakh bike trip, you can enjoy a smooth ride thanks to the bikes' powerful pickup strength. In terms of technical specifications, a bike with a lot of power, Bhp, and a large displacement engine is ideal for a road trip to Leh Ladakh. We've done our best to compile all of the material in this blog that will assist them in overcoming any obstacles they might face along the way.
1. Royal Enfield Bullet 350 cc
This bike has an appealing style, a commanding presence on the track, outstanding dependability, and exceptional durability. The Royal Enfield Bullet 350 cc is a common bike for Leh Ladakh road trips, and you've probably seen it in Ladakh because it's ideal for such journeys. This bike has fewer parts and is easier to repair if anything goes wrong.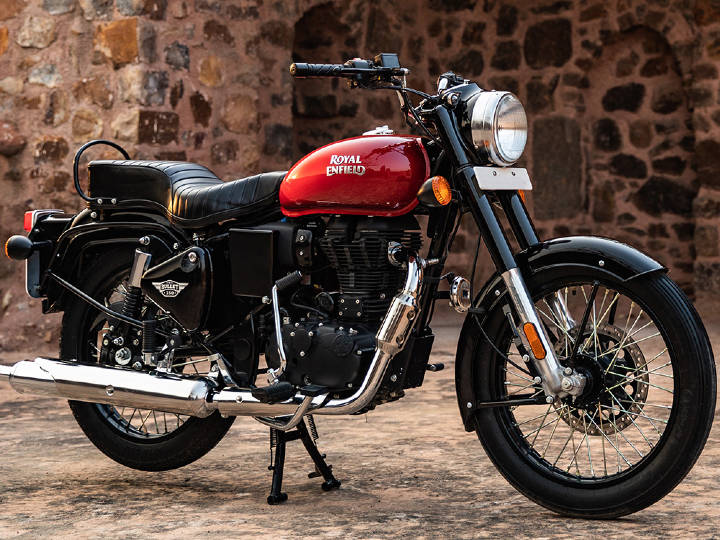 It has a 346cc long-stroke air-cooled single-cylinder engine with plenty of low-end grunt, which is essential for climbing high mountains in low-oxygen environments. The bike's larger size helps you to comfortably transport your baggage. It is one of the best bikes for a Ladakh trip with pillion because of its excellent suspension and seating position. It is comfortable for you and your partner on long rides and provides excellent travel support.
2. Hero XPulse 200 cc
This bike is also regarded as an off-road beast because it is equipped with a 200 cc FI (fuel injected motor) engine that provides enough power for your road ride. LED headlamps make riding at night or in the dark a breeze. It's the perfect companion for your road trip because you can attach it to your mobile for fast navigation.
Another advantage of your companion is its 20 mm ground clearance, which allows you to take it pretty much anywhere. The Hero XPulse 200 cc has a long front suspension for poor roads and is one of the lightest bikes available for off-road riding. This bike also has the advantage of being one of the most economical bikes for trips to Leh Ladakh, as well as being as capable as the most expensive motorcycles on the list.
3. Royal Enfield Himalayan
The Royal Enfield Himalayan is one of the better options for any rider since it was built specifically for off-road terrain. This is a master class bike that is ideal for a Ladakh bike ride. It has a practical feature that allows saddlebags/panniers and even auxiliary fuel canisters to be attached to the front mounts.
The fuel tank holds approximately 15 litres of fuel, and the mileage in Leh Ladakh is approximately 25 to 27 kilometres per litre. This bike has a powerful 411cc engine with an electronic fuel injection system that will make your journey smooth and trouble-free on any rocky trail or off-the-beaten-path track. Its numerous bottom-end grunts make climbing easy. This bike comes equipped with a long-travel suspension system and large spoke wheels with dual-purpose tyres for tackling damaged roads and river crossings.
4. KTM DUKE 200/250/390 cc
KTM DUKE 200, 250, and 390 cc, a lightweight bike with a range of brand new powerful engine models, would be a perfect option for a bike tour to Leh Ladakh. Riding these bikes on the difficult roads of Ladakh will be exciting and entertaining. KTM Duke has recently been added to the list of best bikes for Ladakh tours, thanks to its dual-sport tyres and long-travel shocks, which provide an enjoyable ride on dirt tracks. Let's speak about the engine, which is capable of handling steep inclines, mountain passes, winding highways, and everything else comes up. These bikes have LED headlights, making them the ideal companion for a night trip.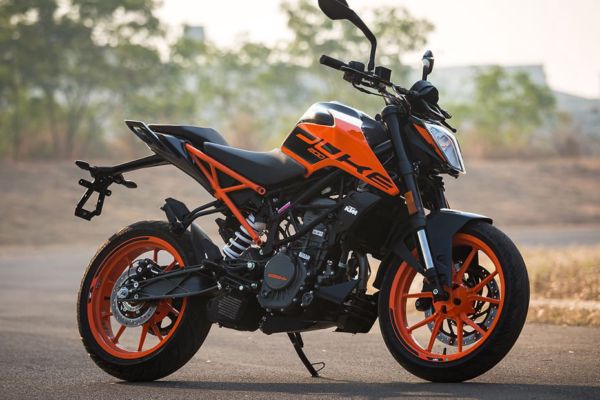 The one thing that KTM bikes are known for is their excellent handling, which allows you to ride over water. Every KTM model, without a doubt, generates excitement among bike enthusiasts. Since people believe sports bikes are the least convenient to rely on for long rides, the current generation of these bikes has brought quality to the next level by enhancing comfortability. Riding the KTM DUKE will transform you into one, demonstrating the KTM Duke's level of ease. The braking system is prestigious, as it features ByBre brakes, which make the KTM the ideal bike for tackling the rugged roads of Ladakh. Which bike is best for the Ladakh road ride, when certain doubts emerge in your mind? Close your eyes and pick KTM Duke, which will not disappoint you.
5. Royal Enfield Interceptor 650 cc
The Royal Enfield Interceptor is one of the most well-known motorcycles among bikers due to its basic and classic style. This motorcycle is gaining popularity due to its smooth parallel twin 649cc air/oil-cooled engine that produces 47 bhp and 52 nm of torque. It has a twin-cylinder engine, as we all know, which gives it more power to perform.
The parallel-twin engine in this off-road beast has V-twin-like features and impresses with its flexibility and torque. To make your Leh Ladakh road trip even better, replace the stock seat with a more comfortable one and use dual-purpose tyres. This bike's strong performance helps riders to go mountain biking with confidence, and it comes with a 6-speed gearbox with a slipper assist clutch. This bike has the potential to be the best choice for your road trip across Leh and Ladakh.